As this year began I looked for something new to pimp up my little illustration world.
I found out about this impressive project by illustrator Chris Piascik, "1000 Days of Drawing", who sketched something new everyday for four years (!) and eventually published a book out of it. I subconsciously let it grow for few days and decided to start up my own serie of tiny daily drawings.
There are a lot of people on the planet (around 7,000,000,000 I heard) so drawing a different one each day shouldn't be that hard. Et voila, a friendly plan to give me an excuse to sketch something new everyday: drawing a random character from Monday to Friday, in black & white, for 30 minutes maximum, date it, name it and publish it (on a Tumblr), for as long as I can.
It started on the 31st of January and finished on the 18th of June with the 100th iteration of my character marathon, Charactron.
So? So, it has been a daily dose of improvised pleasure, my pens and fingers have been upgraded, people seemed to like it with very motivating comments from friends and complete strangers, and I might do something like this again. Merci, beaucoup.
Some very important Charactron aftermath facts:
I really love drawing even when I don't want it
A sketchpad is orientation independent
If it starts small it will get bigger
I'm into character illustration
I'm into hair illustration
London underground trains are shaky enough for an idea to pop-in but too shaky to sketch it
London overground trains are not shaky enough for an idea to pop-in but not too shaky to sketch it
Sketching first, then thinking about a title, always
I'm obsessed with elephants
Sausage dogs + hot dogs = aperitif dogs
Some days I'm grumpy but inspired
Some days I'm not grumpy but uninspired
There is at least 30 minutes available for something new everyday
Pigeons living in train stations are though
Making an habit with what you love is easier than with what you don't
There is nothing wrong about doing it
People who like cats like caterpillar too
Improving + civilization = improvisation
Exclusive photographs of my abused sketchpad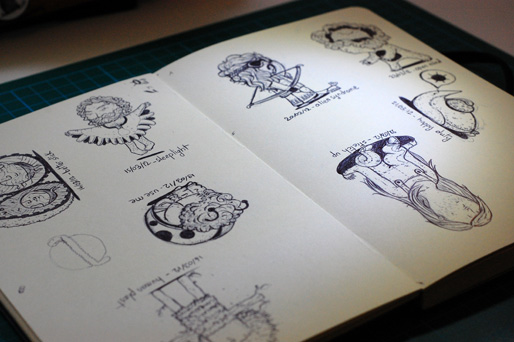 The reunited Charactron family

The Tumblr: http://charactron.tumblr.com/